Blogs
Get latest insights on what's trending in the HR world - Talent Search, Talent Assessments, Psychometrics, Employee Engagement, Appraisals & much more.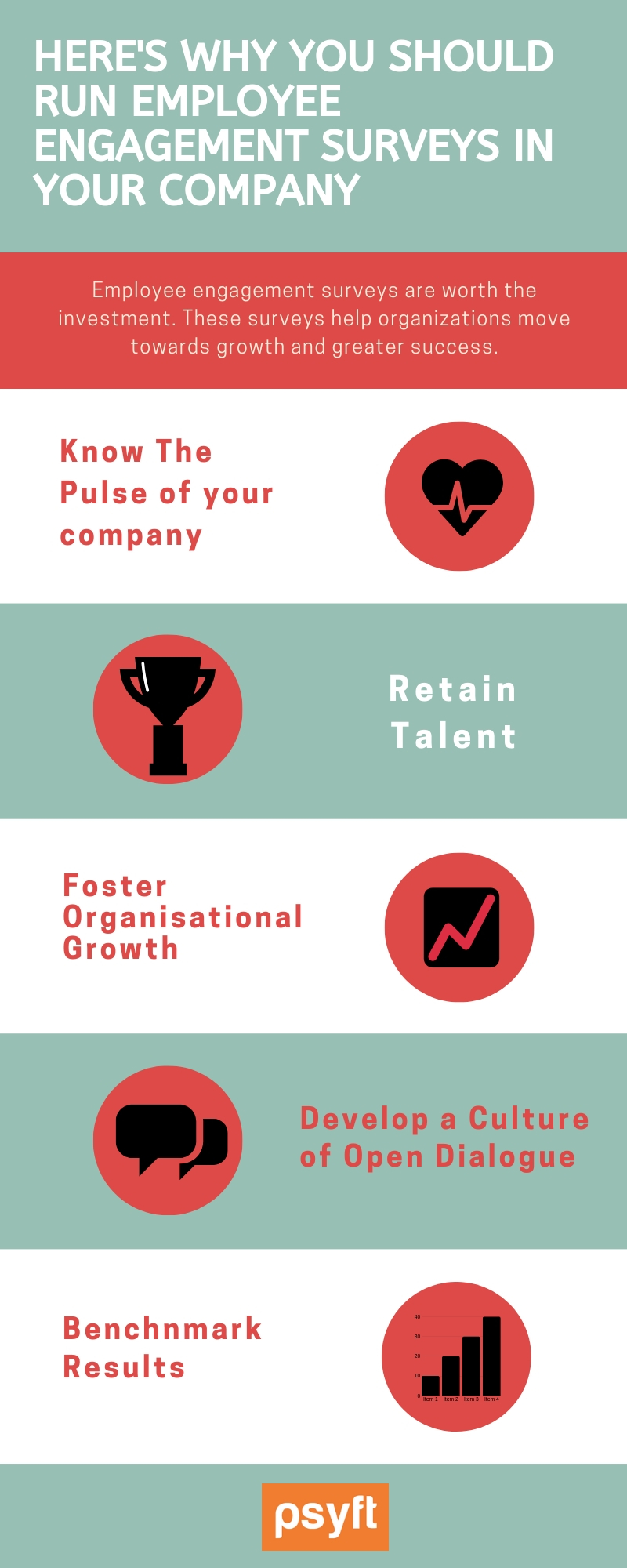 Why run an Employee Engagement Survey at your organisation?
Running an employee engagement survey or an employee satisfaction survey is a very useful exercise to deduce insight on what your employees feel about their company, what they want and what is essential for the company's growth. However, despite of the great ROI an employee engagement survey offers, very few companies make it a part of their core development plan.
Here are 5 vital reasons why employee engagement surveys are worth the investment and how these surveys can help your organization move towards growth and greater success.
Know the pulse of your Organization: One very evident advantage of conducting an Employee Engagement survey is to understand the overall vibe of your organisation. Are your employees happy or disillusioned at work, what's working or not working for your company, etc. these aspects can be addressed by running an such surveys.
Increased Engagement means Increased Retention: By asking the right employee engagement questions and analysing results to make improvements, companies can prevent unnecessary turnovers and attrition and increase retention. Employee Engagement surveys make it easy to get honest feedback from employees on what they like or do not like about their company.
Foster Organizational Growth: Be it working conditions, compensation, company hierarchy, etc, these surveys provide actionable feedback, from which companies are able to identify key problems and pain areas which need to be addressed. It is only after conducting such a survey that the management gets to know about the actual factors that need to be looked into.
Culture of an open dialogue : Employee Engagement survey cultivates the culture of an open dialogue and honest feedback. It offers employees with a platform to express their views, ideas and concerns in a professional manner and that too anonymously, which means they're more likely to be honest and transparent about why they are/aren't enjoying their work. Also, employees will feel more valued and motivated at work, as they'll feel like actually being heard by their management.
Benchmarking Results: Conducting employee engagement surveys at regular intervals allows organizations to carry out a benchmarking analysis. Organizations can look at critical results and compare these with competitors to gain intelligence on their performance levels. Benchmarking helps companies achieve their strategic goals of continuous improvement and growth.
These 5 reasons remind us why companies should invest in running an employee engagement survey and how it helps in creating a spirited team and successful business outcomes.