Blogs
Get latest insights on what's trending in the HR world - Talent Search, Talent Assessments, Psychometrics, Employee Engagement, Appraisals & much more.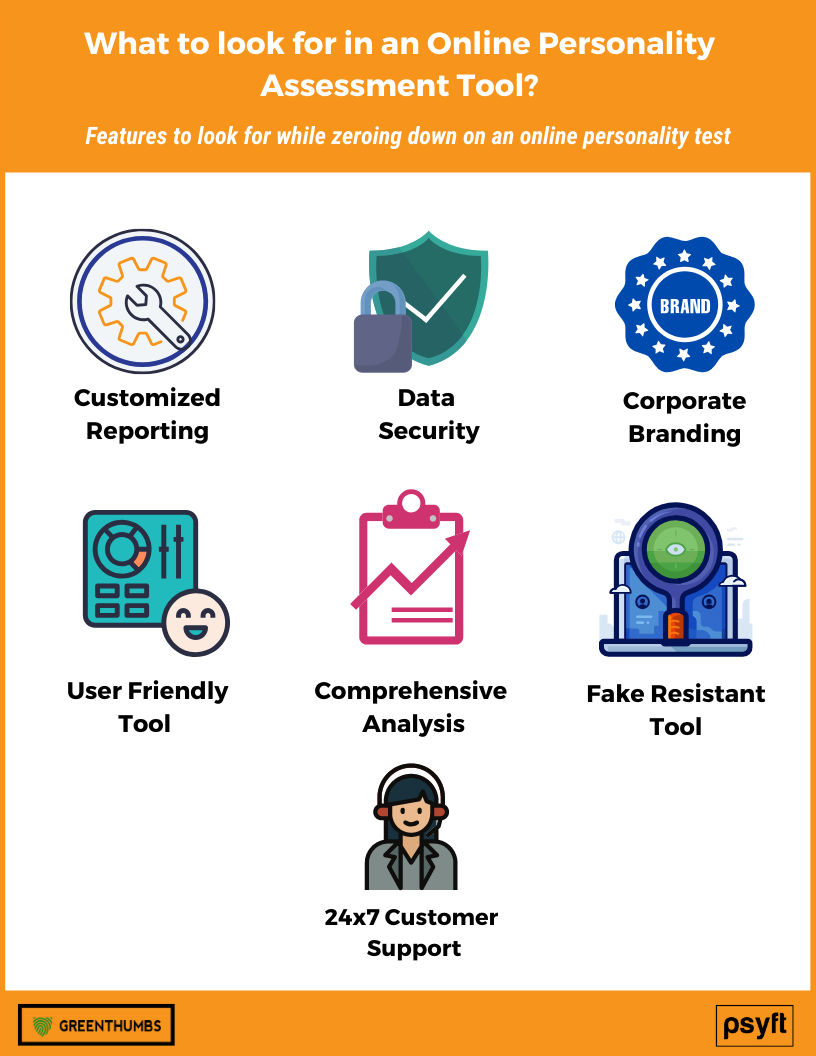 What to Look For In an Online Personality Assessment Tool?
10th April 2020
Until a few years ago, educators, trainers and HR managers relied on the age-old methods of assessments, i.e. paper-based tests, which used to be very time-consuming. With the changing times and the advent of technology, the mode of assessments shifted from per-paper to computers & laptops, however, some problems continued to exit - the questions had to be typed, proofread and checked again for repetition before the final run, etc. The bottom line – the whole process was still pretty cumbersome.
Then Came the Era of Online Assessment Tools that Changed the Game!
What is an Online Assessment?
Simply put, online assessments, as the name suggests are run online - on a cloud or web-based platform. These assessments are both, easy to administer for assessors and easy to take for the individuals. Generally, the results are generated immediately, a sought after feature that saves time.
What are Personality Assessments?
Personality Assessment is an assessment of an individuals' personality traits, behavior, character, temperament, etc. It involves an evaluation of an individual's personality in a variety of contexts and settings e.g., clinical, organizational, educational, etc.
In a corporate world, such assessments come in handy while hiring new talent, assessing employee-role fits or for planning an L&D initiative for existing employees. There are several personality assessments available today – Thomas Assessments, MBTI, DISC, like Psyft Personality Assessment etc. which are taken up by organizations to manage their employee affairs.
Reasons Why Online personality Assessments have become important.
Scientific & Reliable
Most of the online personality tests are highly standardized tools backed with robust scientific research. These are reliable assessments, with tested validity following psychology protocols. For instance, Psyft Personality Assessment complies with the American Psychological Association (APA). Thus such assessments, help leaders make informed, more accurate and relevant people decisions.
Unbiased Assessment
A psychometric test does not care what an individual looks like, their gender, race, sexual orientation, height, weight, etc. Therefore, the possibility of a bias creeping in while evaluating is reduced considerably.
Quick & Easy
The utility of personality assessments also lies in the fact that these are quick and simple to run. Which in turn speeds up any initiative that's linked to such assessments. Most of these are also mobile-friendly tests and therefore can be taken even when people are on the go. Making it all the more simpler.
Fake Resistant
Psychometric tests have also evolved to become much more sophisticated and fake resistant. With the advent of ipsative test design, it has become difficult for individuals to "fake/game" the results. The design of the test ensures that the test-taker can see no apparent pattern and hence, is forced to answer honestly and refrain from giving socially desirable responses.
What to Look for in an Online Personality Test?
Here are some of the features to look for while zeroing down on an online personality test –
1. Data Security
CIA Triad (Confidentiality, integrity and availability), is a security model and guide for organizations to keep their sensitive data protected from unauthorized access and data exfiltration. Given the fact that these assessments involve handling personal details of individuals, it is very important to follow the security guidelines. If the data is well encrypted, the chances of it being misused are minimized. Undoubtedly, this also ensures the sanctity of the test results in such a secure environment.
CIA Triad stand for -
Confidentiality ensures that data is accessed only by authorized individuals;
Integrity ensures that information is reliable as well as accurate; and
Availability ensures that data is both available and accessible to satisfy business needs.
2. Customized Reporting
Customized psychometric assessment report that best suits an organizations' needs is an added advantage. A lot of assessment companies today offer report customization for instance, customizing the job-specific competencies, etc in their analysis, so that these can serve their clients to the best of their ability.
3. User Friendly Interface
It's important for the online assessment interface to be user friendly, so that it can be accessed by people from across different backgrounds. Additionally, the assessment questions should be worded in the simplest language possible, to improve the inclusiveness of the assessment.
4. 24x7 Customer Support
• To overcome the problem of customer queries, 24*7 support should be offered.
• Support at every step, right from the beginning of the test Until the end.
• Customers should be able to connect via phone, chat or email for clarification on any doubts or queries.
• Facilitating step-by-step briefing/onboarding session from product experts for customer convenience.
• Assigning dedicated account managers providing the clients with Updates on the status of their assessments while strictly stick to data-protection guidelines.
5. Comprehensive Analysis
An in-depth analysis of an individual's performance is possible with detailed and comprehensive reporting. Make sure that the assessment tool you are considering, offers key insights into candidates' behavior, personality traits, temperament, performance metrics, competencies, etc. You need to get an honest true and complete picture.
6. Corporate Branding
White labeling is a legal protocol that allows one party to place its brand name on a product or service produced by another party. Being able to add your corporate logo to an online assessment platform helps organizations build a strong brand awareness and enhance its credibility at the same time. It provides companies with an opportunity to highlight their brand subtly and personalize the experience.
Conclusion
Personality tests are being used extensively across sectors – Corporate, Education and even the Government. These assessments help hire right, understand people better, manage teams effectively, make the right career choices and therefore, using the right kind of assessment platform becomes all the more important.