Blogs
Get latest insights on what's trending in the HR world - Talent Search, Talent Assessments, Psychometrics, Employee Engagement, Appraisals & much more.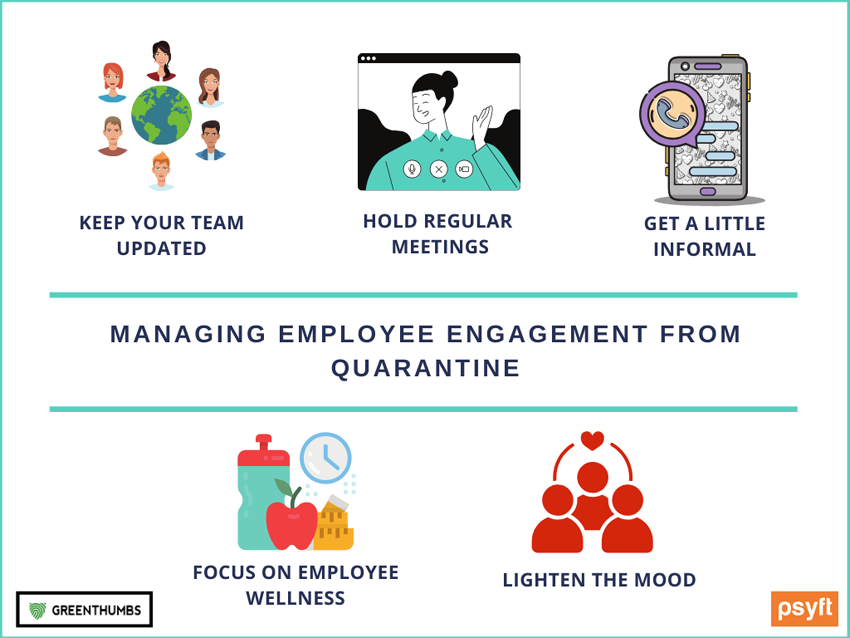 Employee Engagement from Quarantine

8th May 2020
The world is going through extremely challenging and trying times. The COVID-19 pandemic followed by the worldwide lockdown being implemented has forced many organizations around the world to either shutdown their operations for an unspecified period of time or modify their working conditions according to the precautionary measures provided by respective governments and health organizations (WHO Guidelines, etc). Working remotely/working with limited resources seems to have become the new normal. Employees are either working from home as a safety measure or working onsite with minimal equipment (in case of essential services, etc).
It's essential for organizations to focus on their employees, stay connected and keep their engagement levels high. All this will help deter the ill-effects of the pandemic and also help boost productivity.
When employees work remotely, staying connected with them at all times may become a challenge. Offices are built to offer an intentionally designed environment to get tasks done, fuel performance & productivity. Our workplaces follow a specific work culture that provides a platform to employees to interact with each other and cordially work towards achieving an objective. But the current work scenario has taken away the physical construct and feel of an office. Employees now have to tune themselves to continue their regular office work, without an actual office.
Employees across companies are trying to cope with this changed work arrangements and some are still struggling to do so, for many reasons –
Increased stress levels due to self – isolation
Struggle to strike a balance between work & personal commitments
Limited access to work tools and resources
Lack of co-ordination within/between teams
Family/personal Concerns
5 Tips to Manage Employee Engagement during Quarantine/lockdown
1. Keep everyone updated
It's important to keep employees in the loop with information and updates about your business. Being open about your current business situation will help curb work related apprehension and also bring you closer to your team. Additionally, all types of business are not run keeping in mind the "work from home" possibility. Working from home could be a rarely thought of work arrangement, for some businesses. Therefore, not all employees will be very Tech – savvy & there is a possibility that they may struggle to get a grasp of how things would work.
It's crucial for managers to ensure that their team is briefed and made familiar with the remote communication tools that are going to be used. Ask your IT to help employees in setting up virtual offices and using remote communication tools. This can reduce the confusion & uncertainty among employees and make them feel confident about working online.
2. Hold meetings more frequently.
At offices, managers try and keep their employees engaged and committed to work in different ways, through different initiatives. But now, during the lockdown phase, this has become the biggest challenge for managers; with employees working virtually now. Managers should ensure they stay in touch with their teams at all times. There are a lot of virtual communication tools like Microsoft Teams, Google Hangout, Slack, etc. available that make remote communication easy.
What's important here is to understand that there a need to have a connect with employees to help them sustain a healthy work environment and lifestyle and combat feelings of isolation. It's not about keeping an eye on their progress all the time. Focus on the results and not on employee activities. The aim is to keep your team engaged/happy; not to micromanage their work and make them feel that are not trusted, that's a big time impediment to employee engagement.
3. Get a little informal
Merely connecting with employees to inform about work schedule, projects, tasks, etc. will be insufficient and not the best practice right now. While email is an essential part of modern work communication, especially for remote employees; don't always rely on email. You should swap it up with quick video calls or phone calls once in a while. Videos/visuals prove to be more effective in reducing the feeling of isolation and increasing a sense of belongingness.
The key is not to make your communication only about work. Rather, managers should connect with their employees at an informal level as well – discuss about their remote work experience, their concerns, etc. All these initiatives will make employees feel that their company values them as an integral part of the organization and will lead towards creating a positive attitude and vibe among employees.
4. Focus on employee-wellness
The times of lockdown and social distancing may affect different people differently - mentally, physically, operationally or psychologically. Therefore, organizations should focus on the mental health and wellness of their employees. Organizations need to talk to have a dialogue with their employees about maintaining a healthy work-life balance -
Encourage your employees to follow a safe and healthy routine.
Encourage them to take breaks in-between work – get up and take a quick walk, get some fresh air, take-up some short fitness class after work, take a break from the screen, etc.
Have an open discussion about mental health issues with your employees, these issues are often shied away from.
Try and offer flexibility to employees for them to manage their personal commitments as well (taking care of kids, handling household work, etc).
Conduct a short pulse survey to understand how your teams are faring across levels and what can you do better to help them sail through smoothly.
5. Lighten the Mood
Companies all around are launching different virtual initiatives in order to boost employee morale during the coronavirus lockdown. Some advertising companies are using platforms like slack to organize virtual dance competitions among employees. The key is to keep the stress levels at bay. Go live, share posts, stories, videos, etc. on social media & encourage your team to participate, run an online contests with some gift vouchers to lighten the environment, "gamify" your tasks if you can, host a virtual luncheon or a tea/coffee sessions, etc.
Conclusion:
Standing by your team has become essential now more than ever. Employees look up to their organizations for support, empathy and flexibility to adjust to the unforeseen times. Be there for you people, tell them you have their backs, do whatever you can to offer them assistance. It's just a matter of time before things get back to normal and you will emerge as a stronger and more engaged and resilient team.