Blogs
Get latest insights on what's trending in the HR world - Talent Search, Talent Assessments, Psychometrics, Employee Engagement, Appraisals & much more.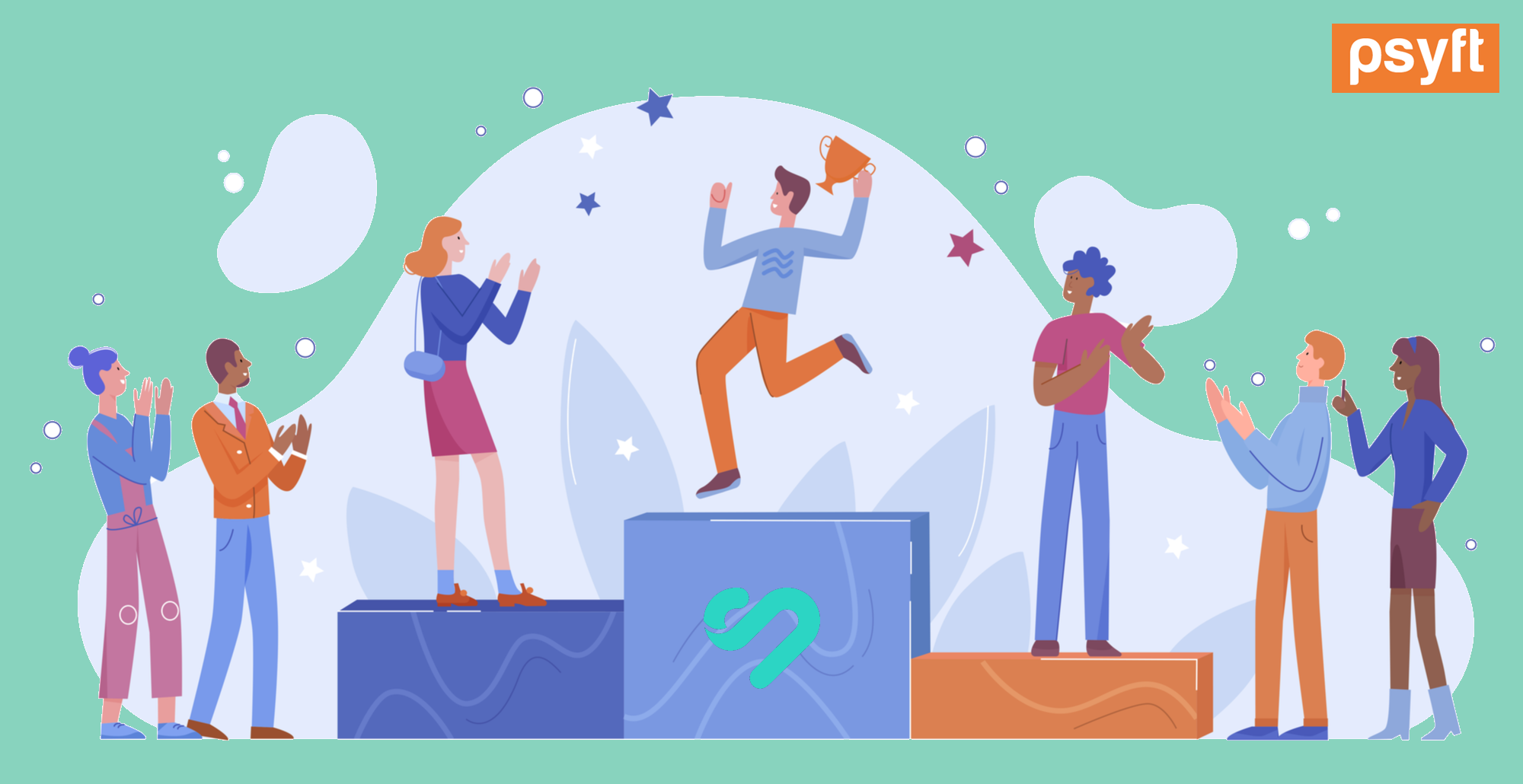 How to Create A Culture of Recognition in the Workplace

01st December 2021
In the 21st century, big paychecks are no longer the deciding factor when choosing a job.
With hectic work schedules, employees require a little more than just monetary compensation for their work — recognition.
Appreciating people for their job motivates them to increase their productivity, which increases sales growth. According to a recent survey, 65% of people received no recognition or appreciation for their contributions in the past year. Considering the disruptive workplace norms today, a culture of recognition at work is the need of the hour.
Although this cannot be developed overnight, any steps you take will go a long way in amending present workplace cultures.
In this article, we have summed up the most effective ways a company can build a culture of recognition in the workplace. The goal is to achieve:
1. Employee engagement
2. Employee motivation
3. Increased productivity
4. Job satisfaction
5. Culture of accountability and transparency
9 Effective ideas to create a culture of recognition in the workplace
1. Frequent and early recognition
In an ideal recognition culture, every employee should get recognised from the very first day at work. Project leaders and managers should try to appreciate genuine and reasonable efforts at all times. This starts a positive feedback mechanism in the employee's mind. It is common for employees to showcase more effort towards future tasks if their previous work has been appreciated. The survey states that 37% of employees agreed with "appreciation and recognition" when asked what motivates workers to give their best. Surprisingly, this answer ranked above "better payment" or "promotion".
Personal attention and thoughtful gestures also go a long way in developing a recognition culture. For instance, certificates and awards for acknowledging measurable achievements can provide an employee with a chance to showcase their achievements to others.
Employee appreciation is no longer limited to a yearly recognition ceremony or holiday gift. From onboarding to retirement, employee recognition software can assist you in recognizing and celebrating employee milestones.
2. Publicizing achievements
Billion-dollar companies have adopted this strategy of publicizing their employees' achievements through their social media handles.
For instance, Zomato started posting pictures and accomplishments of delivery personnel who helped people in need by delivering daily essentials during the pandemic. These little gestures made the delivery men feel appreciated, and they understood that someone was noticing their efforts throughout. So, the bottom line is, tweets and appreciation posts can reinforce recognition.
3. Friendly chats
As higher-ranking officials, you should consider initiating conversations with your co-workers or junior officers to check on their well-being and hear about any issues they may be experiencing. A friendly chat over a cup of coffee helps people loosen up and feel that they aren't just employees of the company.
Not only does this narrow the gap created by the difference in paychecks and official positions, but it also makes employees feel valued.
When they feel valued, employees also contribute their two cents to maintain a transparent work environment, where there are no conflicts between colleagues and everyone feels motivated to do their best.
4. Non Verbal recognition
Sometimes actions can do what words cannot. Praising your employees need not be restricted to verbally disclosing the achievement to others. A handwritten note of appreciation or unique gifts can speak a thousand words.
You can always treat your employees with a day off or flexible working hours for two days to help the company achieve a particular milestone. You might even send them organic snacking goodies or health drinks. It will show that you value their efforts and overall well-being.
Recently, a Bengaluru-based startup announced a holiday to align with the release of a particular popular Netflix series. This action went viral, and everybody on social media applauded the decision-making authority. Steps like this present the company in a positive light.
These gestures don't just win the loyalty of employees but also make them fall in love with the company.
5. Celebrating company success
When employees understand their contribution to their company's long-term success, they feel that their efforts are worthy and are not going in vain. As a management representative, it is your responsibility to connect the dots and present to employees how each individual's contribution results in cumulative growth.
You can host a celebratory event where you call upon employees who contributed to the project and present them with placards or trophies. Even gift certificates are an excellent option in this scenario.
6. Giving more responsibility
Giving responsibility to a person manifests trust and dependence. When project leaders or managers allow employees to make small decisions on behalf of the company, they feel that they are an integral part of the family. And employer-employee relations escalate to those of co-workers. It builds self-confidence and they start trusting their gut instincts.
This is also beneficial for the company, as it finds new individuals to trust the company's decisions for future necessities. It helps in mutual growth and the retention of talented individuals who would have switched in search of better growth opportunities.
7. Gifts and incentives
Financial incentives boost the performance of employees as they assign more value to work goals. These incentives can be of any sort, like an increase in commission rates or a lump sum bonus for cracking a project faster than others.
Instead of cash amounts, indirect rewards and coupons are also effective in achieving the same objective. Holiday packages based on annual performance or high-end restaurant dining coupons provide a subtle subconscious motivation to employees, irrespective of the organizations they work in.
Apart from motivational incentives, personalized gifts for holidays and special occasions (like birthdays or anniversaries) make employees feel at home, even under work stress.
Small gestures like specially curated gift boxes during festivities are great icebreakers. It requires minimum effort to inquire about the likings of your employees and order gifts accordingly.
Lots of websites specialize in corporate gifting facilities. For instance, OffiNeeds has an extensive range of products, especially suited for working professionals.
Products starting from headphones to branded tech gadgets to T-shirts, laptop bags, healthy snacks, and beverages — organizations can take their pick from their catalogue that contains every gift that an employee expects from their companies and desires to own.
8. Remote gifting
Delivering gifts to employees' homes on appropriate occasions is another thoughtful gesture.
Modern companies use cloud-based platforms to facilitate work in a remote environment. This feature has helped companies hire remote employees who can work from the comfort of their homes. Since these people are not working in the company's office, they miss out on the one-on-one interaction and the holistic group culture of offices. When you pamper your remote employees with corporate gifts and warm gestures, they feel an extended part of the family.
9. Personal growth opportunities
Everybody dreams of a better tomorrow and strives towards realizing their dreams. Nobody can and should aim at staying in the same position forever. Every employee wants to acquire new skills and study further to secure better promotions and higher packages and benefits.
As per the latest company culture stats, professional development opportunities are cited as one of the most important aspects of company culture by 76% of millennials.
If you can provide the staff with the scope of development on behalf of the company, it could shape their careers. You can discuss with the respective employees regarding their plans and help them choose courses or suggest an outline that they can follow. Many organizations that do not allow this flexibility either become outdated or crash due to a lack of employees.
Authorities must understand that every individual's growth is its own growth too, which provides opportunities for exploring new avenues and expanding their business. Also, employees who are passionate about growth tend to associate themselves with companies that offer the scope for it.
Create a recognition culture for workplace success
In today's world, a company with a "come-in, go-out" mentality is considered outdated. Talented individuals tend to apply at organizations that offer a favorable work environment, and where employees stick by each other during hard times irrespective of their posts.
Investment in developing a rewarding work environment by promoting a recognition culture will go a long way in shaping the company's future. Once your employees start feeling appreciated, it will manifest in their daily work, and soon enough, the company's net productivity will shoot up.
A healthy and happy organization is what all employers and employees want and deserve.