Blogs
Get latest insights on what's trending in the HR world - Talent Search, Talent Assessments, Psychometrics, Employee Engagement, Appraisals & much more.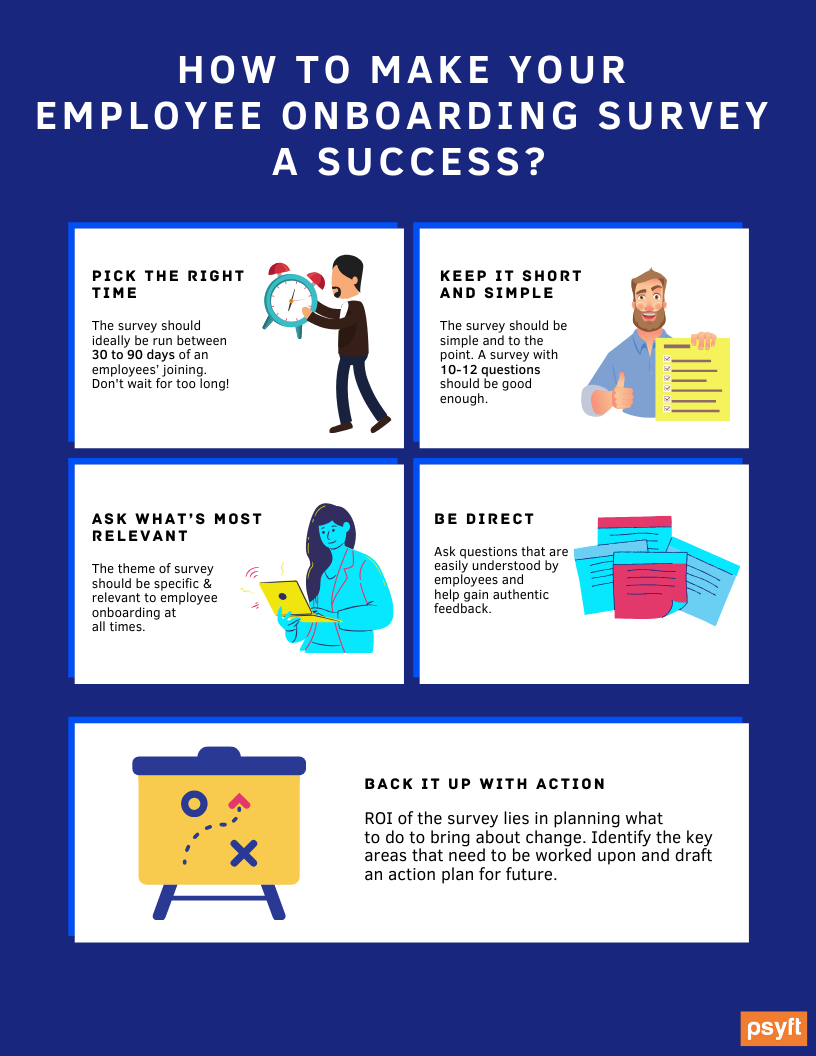 Best Practices to make your Employee Onboarding Survey a Success

09th July 2020
When new employees join an organization, the first couple of weeks from their joining can decide whether the relationship between employee and organization will go the distance or whether you'll be conducting an employee exit survey for the same employee very soon. It is the responsibility of the management to nurture and capitalize curiosity, motivation and ambition a newly hired employee brings with him/her. It's for the manager to turn their knowledge and excitement into effective performance.
A streamlined onboarding procedure guarantees a successful start for a new hire into his/her new job. Conducting employee onboarding surveys becomes important to better understand how new employees view your organization, have they well settled in their jobs and how well they are geared up to perform.
As per the research of Society for Human Resource Management (SHRM) – In Fortune 500 companies alone, about 500,000 managers take on new roles each year, and overall, managers begin new jobs every two to four years.
What is an Employee Onboarding Survey?
An Employee onboarding survey is a survey that is used to gather feedback from employees who have recently joined an organization. This survey measures the level of satisfaction of the new recruits towards their onboarding process, their overall experience while they were being recruited and their related feedback.
Why conduct an employee onboarding survey?
Employee onboarding is a critical aspect on an employee's career-cycle. It sets the foundation for how successfully do the new hires get accustomed to your organizational culture and feel like a part of it. To create such an environment that makes their first day memorable, factoHR and many other identical solutions encourage giving a paperless and engaging onboarding experience to the newly hired employee. Further, a well conducted employee onboarding survey will get you valuable insights on how well your recruitment process is working, and at the same will also make employees feel that they are being heard by their management.
On the flipside, badly run onboarding surveys have the risk of demotivating and alienating your new hires. A Harvard Business Review article says – "Your New Hires Won't Succeed Unless You Onboard Them Properly ". There are many benefits of conducting onboarding survey programs in every organization, listing a few below
Valuable Insights: It will be useful for the organization to get to know about the process of recruitment through the feedback of new hires and how has their experience been so far.
Better Employee- Role Fit - New hires get a clear idea of what is expected of them, how to perform their job. Thus leading to a better employee role-fit.
Employee Retention - Employees generally tend to stay longer at a company when they've had a positive onboarding experience.
Boost Employer Brand – Employees who experience a good are more likely to their recommend as a place to work to their friends and family.
Now, let's talk about the 7 Best Practices for Running an Employee Onboarding Survey -
While running an employee onboarding survey, it's important to ensure that the feedback collected is acted upon, that the employees feel comfortable giving honest and unbiased feedback and that the feedback is collected timely and regularly.
1. Pick the Right Time
Though there is no set rule as to when the survey should be run, however, the survey should ideally be conducted between 30 to 90 days of an employees' joining. As the new hires will be in a good position to share their experiences across different aspects of the organization. What's important is to understand that waiting for too long for running the survey will diminish its utility altogether.
2. Keep it short and simple
Keep these survey short and to the point. The surveys should have a maximum of 10- 12 questions they can be a mix of objective and open-ended questions to capture a whole picture.
3. Be Direct
Instead of asking indirect or ambiguous questions that can confuse new hires, use direct questions that not only are easily understood by employees but also provide more authentic feedback which can be used for further developmental initiatives.
4. Ask What's Most Relevant
It is important that the theme and survey questionnaire should be specific and relevant to employee onboarding at all times.
5. Back It Up With Action
There is really no point putting time and effort in running a survey, if nothing is going be done after that. The true return on investment (ROI) of any survey lies in planning what to do bring about change. Identify the key pain areas that need to be worked upon and draft an action plan.
Bonus Section – What kind of questions can you ask in an employee onboarding survey?
• Recruitment Process
It's important to ask new hires about their satisfaction with the recruitment process overall – receiving information, interviews, orientation, induction etc.
• Employee Experience
Ask your new hires about their experience during the very first week in the organization. Ask them if they have access to the resources required to perform their work, have they been able to connect with their fellow team members, etc.
• Employee Engagement
Ask questions like - are they proud to be associated with your organization? Would they recommend this organization as a place of work? These questions will help you understand the true employee vibe.
• Organizational Alignment
It is important to ensure that the new employees feel aligned with the goals and values of the organization as a whole. Ask them questions around their understanding of how their role contributes to the overall vision and objective of the organization.
• Role Perceptions
Is the work they are doing in line with what they were informed about at the time of induction? It is important to understand if your newest employees received a true job preview.
Conclusion
An Onboarding survey is an exercise to help new hires adjust to the social and work related aspects of their new job quickly and smoothly. Employee onboarding survey is one of the most powerful tools to collect feedback on the onboarding process and to fill in the key gaps, a new hire survey can have a direct impact on the employee engagement levels in an organization.